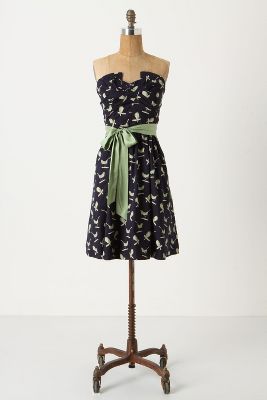 This will be brief, dear blogging world, because I must run off to do about a thousand things for Christmas preparation. I just had to check in with some new arrivals at Anthropologie and I was delighted to find this new dress. Oh yes,
Sing Sweetly Party Dress
, you will be mine. Anthropologie always seems to know there is no resisting birds. Their last bird themed dress, the Snowy Egret Shift, was a disaster on me, much to my displeasure. I think I will have far more luck with this frock. I have to tap into my restraint until after Christmas though and oh will that be tough. Are there any early January arrivals tempting your wallet?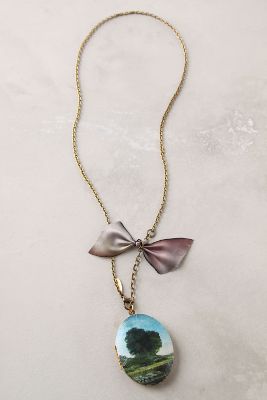 Speaking of a lack of will power, I picked up a few sale and FP items during Anthro's unexpected 25% off sale. Sadly the item I was most excited to get, my blue Artist's Imagination Necklace (right), was canceled from my order. It's so small I'm not sure I'll track it down and pay for shipping on a charge send since that would negate the brilliant discount. I was dying for this necklace to go on sale and it slipped through my fingers. My local store never had this lovely thing so alas I think I'm going to go without it. I did at least pick up a few belts and a blouse for a tidy price. Did anyone else indulge in this rare percent sale?
The rest of my order;
Floating Gardenia Headband
, Celia Blouse ($28), Soft Bow Belt ($11),
Dewy Dash Belt
($15),
Climbing Ticket Pullover
.